5 Ways Paid Adverts Can Upgrade Your Brand
Adverts are an important part of any company's marketing strategy. Paid advertising in particular can help a company reach a larger audience, generate sales, and build brand awareness. 
Paid adverts can be quite expensive, but it's worth the investment if you want to achieve success in the marketplace. There are many different types of paid advertising, so it's important to find the right approach for your business. PPC (pay per click) advertising is one type of paid advertising that uses online search engines to bring people to your website or landing page. You pay for each click on your ad, and this type of advertising can be very effective when you target specific keywords. 
Another type of paid advertising is print media. Newspapers, magazines, and other publications often have space for advertisements. You can also place ads on websites or blogs focusing on specific audiences. Display ads are another type of paid advertisement that appears on websites and apps without users having to leave the site they're currently visiting. 
Paid advertising can be a cost-effective way to reach your target market, so it's important to choose the right approach for your business. If you're looking for ways to increase traffic to your website or landing page, Paid Search may be the perfect solution for you! 
In the following article, we will show you the full potential of paid adverts…
What are the Benefits of Paid Advertising?
1) Paid adverts increase the presence of your brand
Over the years, different types of marketing have proven to work very well for increasing the visibility of brands. Likewise, it is also beneficial to make the public talk about a company for a short period. 
However, this isn't only about advertising that makes a brand known to the target audience; it is also a viable option to increase visibility for newly launched things like products or services. Special offers, such as limited offers and discounts, require immediate responses from the target audience, achieved through social media advertising. And at this point, you should mention that one of the best benefits of digital marketing is that it's easier to create and launch than traditional marketing campaign methods such as print ads or radio ads. 
2) Stand out from the competition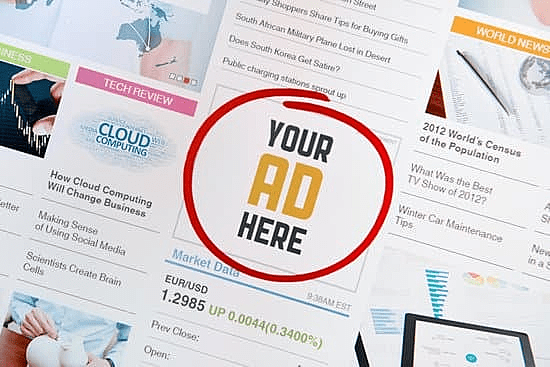 The ever-changing nature of the market requires market leaders to innovate and change to stay competitive continuously. There are numerous options for the same product or service, so we'll take steps like creating tailored ads to focus on what makes your product stand out from the crowd. 
Paid adverts are a great chance to show the lighter side of your brand, or to engage customers in a less formal way. At the end of the day, the aim of an advert is to grab attention and humor is a tried and tested way of doing this.
But if that isn't your style, all hope is not lost. In a world of funny or lighthearted ads, you can always stand out by being the reserved authoritative voice. Ultimately, this is something any good ad agency should work on with you to come to a happy medium.
3) Attract and retain customers with tailored adverts
After the awareness phase, advertising is important in encouraging the target audience to take further steps in the sales process. The following gives an idea of how paid adverts can benefit existing customers: 
Restaurants and retail stores can increase sales by highlighting their company location within ads. This also makes it easier to generate more leads and connect with potential customers through platforms like Facebook or LinkedIn, one of the benefits of social media advertising.

 
There are several ways to increase visits to a website or application that might otherwise have gone to your competitor. One of those ways is through pay-per-click advertising on search engines like Google, and social networks like Facebook.

 
Multiply the number of company followers in a region or niche by the total audience interested in the appropriate social media channels.

 
Email marketing campaigns may lead to more subscribers.

 
Something is exciting about word-of-mouth advertising. For your company, customers can share their experiences with the company with family and friends.

 
4) Educate customers about your company
Customers always want to know that the product or service they're purchasing meets their needs. Another advantage of advertising is that it can be used to educate potential customers about how the brand's products or services can solve their problems. This also helps the public recognize your brand as a leader while ensuring you stay relevant. 
If you ever feel like there is a pain that your product solves, but that potential customers aren't aware of, paid ads can be a great way to point this out.
5) Adverts can improve your brand image
Marketing helps companies effectively develop a public image. With advertising, one can improve and create a positive perception of a company or change the negative image that people may have of it. The goal is to position oneself as being the best option for people who want related products and services. 
One form of marketing often employed is visual mediums like video. The advantages of this are increased staying power and instant recognition by your target audience when they come into contact with anything related to the brand. The sky's the limit with paid adverts.
Start growing your business with Metric Central
Metric Central is a leading provider of paid advertising services. We strive to provide the best possible experience to our clients, and our team of experienced professionals is dedicated to providing world-class service. 
Our team is skilled in creating effective strategies that meet your specific needs and goals. In addition to our ad campaigns, we also offer consulting services that can help you improve your marketing strategy overall. 
Metric Central is the perfect choice for you if you're looking for trustworthy and innovative paid advertising services. Contact us today.